IF YOU HAVE RECEIVED SPAM EMAIL WITH BAMGOC AS A RETURN ADDRESS BE ASSURED IT IS NOT FROM OUR IP ADDRESS.

.
NEWS AND APPEALS FOR INFO
MPR 10W
Be aware that this car is reported stolen and is currently the subject of court action. So - if it's offered to you or you see it on Ebay - DON'T BUY IT!!
The following email arrived on 8th June 2014:
Dear Pauline,

I wonder if any of your members could help us.

Two years ago my husband bought an MG SA from a gentleman who had spent many years and lots of money having it restored to pristine condition, only to find that he did not like driving it. In a large box of reciepts and photographs of work done, was a photocopy of a newspaper cutting, from AutoClassic but not dated, of an article by Julian McNamara.

"A 1938 MG SA has come down to earth after more than 20 years as a Bristol landmark. The car was originally put on the roof of RTS Motors in the 1960s to replace a Talbot London saloon which had dsintegrated in the wind and rain. Owner of the MG, James Moore, was tickled pink to find that the eyecatching yellow car, although slightly damaged by the crane which lifted it down, was sound."

The article continued that the car had survived remakably well as it had been painted three times while it was up there, but the interior needed some work! It would be lovely to hear from anybody who remembers the car and a photo of it in-situ, or any other information would be amazing.

The car will be on display in the time line at Silverstone MG90 later this month.

Yours sincerely
Tricia Gregory
(Luton & Dunstable MGOC)
If any members have any information please email Tricia Gregory on: tricia.gregory1@ntlworld.com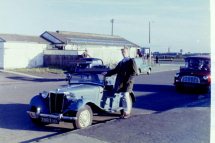 Alan Schofield has contacted BAMGOC on behalf of a friend of his who owned the MG TD 7883 HK shown in the picture in the mid 1960's. It was believed to be in the Bristol area some 15 years ago so hopefully it is still on the road. James would like to pass on photographs and information to the current owner. Hopefully someone in Bristol Area MGOC may know of its whereabouts. If you know anything then email Alan by clicking HERE.