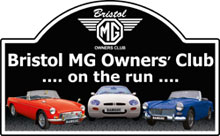 For our future runs the Club now has it's own rally plates which you can purchase for just a fiver! Buy them at Club Nights.
NEXT CLUB EVENT!
Sunday, August 23, 2020 -
POSSIBLE PICNIC AT BARTON CAMP

GO TO THE EVENTS PAGE FOR MORE DETAILS
FOR FURTHER EVENTS SEE THE EVENTS PAGE
TO ADVERTISE YOUR CAR (OR RELATED STUFF) FOR SALE:
BAMGOC Members FREE - NON BAMGOC Members £10 (single entry in magazine plus three months on website). Email details, pictures etc to area.sec@bamgoc.co.uk
and she will reply with details of where to send any cheque required.