NEXT CLUB EVENT!
Saturday, June 25, 2022 -
PILL REGATTA

GO TO THE EVENTS PAGE FOR MORE DETAILS
FOR FURTHER EVENTS SEE THE EVENTS PAGE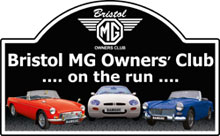 The Club now has it's own rally plates which you can purchase for just a fiver! Buy them at Club Nights.
TO ADVERTISE YOUR CAR (OR RELATED STUFF) FOR SALE:
BAMGOC Members FREE - NON BAMGOC Members £10 (single entry in magazine plus three months on website).
Email details, pictures etc to
secretary.bamgoc@gmail.com
and Pauline will reply with details of where to send any cheque required.