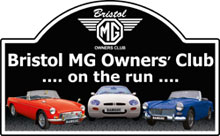 For our future runs the Club will have it's own rally plates which you can purchase for just a fiver! Buy them at Club Nights.
NEXT CLUB EVENT!
02 June 2019 -
Sparkford Breakfast Club @ Haynes Motor Museum
If you pay entry for the museum, they have "Get Closer Day" with mechanics showing people the cars. There's usually lots of classics in the car park plus a cafe.
Contact Andrew Hounsom ( click HERE to email) for meeting place details.

Haynes Motor Museum
FOR FURTHER EVENTS SEE THE EVENTS PAGE
TO ADVERTISE YOUR CAR (OR RELATED STUFF) FOR SALE:
BAMGOC Members FREE - NON BAMGOC Members £10 (single entry in magazine plus three months on website). Email details, pictures etc to area.sec@bamgoc.co.uk
and she will reply with details of where to send any cheque required.